Managing your GCMS Website
Navigate to [ http://www.yourdomain.com/admin ] (Type in your businesses website domain in place of www.yourdomain.com)
Login: [ E-mail ] Password: [ your Password ]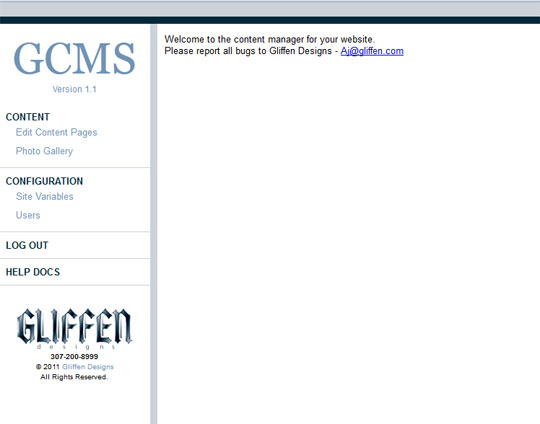 Edit Content Pages
Navigate to Content > Edit Content Pages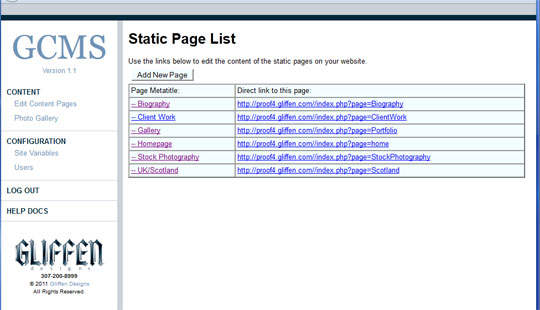 This will show you a list of all the content pages on the website ordered by their title. Click on the title of the page for the page you wish to edit.Note: to determine which page you are looking at on the front end you can use the url (link on the right) and match it with the url of the live site. If you do not see the same url the page you are trying to edit is not controlled by this area of the CMS.
Click on the "Page Metatitle" to edit
Once you have selected the page you want to edit you will see a page come up with 5 fields.

Title – The title is what shows on the top of the window when a visitor is on a specific page. It should be no more than 4-5 words that are descriptive of what is on the page
Page Keywords – These are used by search engines and should be set to page specific words that describe what is on the page
Page Description – This is used by search engines and should be no more that about 20 words describing the content on this page.
Content – Content displays what a visitor sees on this page. This field uses the HTML content editor. For instructions on using this editor please visit Working with the HTML content editor area of this help doc.

Once you have made any changes you want hit the update page content button.Note: if you make a mistake that you don't want saved you can navigate away from the page without hitting the update page content button and the page will not be changed.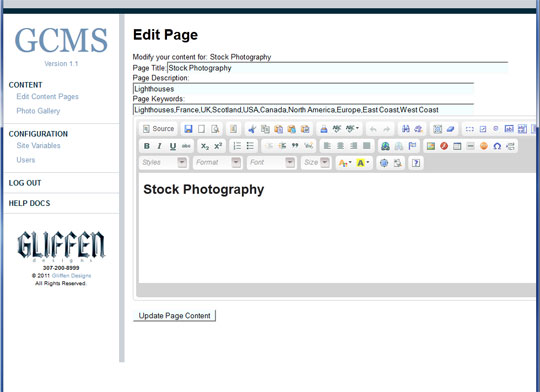 Working with HTML Content Editor
This document only briefly covers working with this editor. For a complete users guide to the HTML content editor click here.
The following links go directly to the instruction page for that feature.

Note: We have established the pages that make up your website but if you'd like to add additional pages, remember to request us to change the menu to include it.