Almost all website owners and SEO experts that deal with website promotion want to get their websites to the top of Google ranking. Getting a high ranking on Google can become a real headache when you do not understand how they rank websites or when Google updates its ranking algorithm. This guide aims to give you advice and directions on how Google ranks website content for 2017.
Most website owners get confused about Search Engine Optimization or SEO. Some believe that is an art that only a few people have been able to learn and others believe it is a waste of time and money. A few are unaware of SEO and keep wondering why they have a beautiful website that does not attract traffic. There is a lot of misinformation about SEO and a number of SEO experts take advantage of unsuspecting clients to fleece them of their money and this is understandably why a lot of people are not interested in SEO.
There have been a lot of changes in the last one year in regards to SEO. The techniques used in ranking websites on Google last year are no longer relevant this year. This has helped in eliminating those backhanded experts as their techniques are no longer relevant. Google ranking has become smarter making it almost impossible to trick the system as was once possible. This article explains what Google looks for in a website and will try to disperse some of the SEO myths.
No Page One Guarantee
Some SEO firms often times guarantee their clients of page one ranking on Google. That is always a false claim as no one can guarantee your site will reach the first page of a Google search. The only way to get on the first page is by paying an excessive amount for advertisements on the first page which might not be worth it most of the time. Several years ago it might have been possible to do that organically. But, that is no longer possible. Only illegal techniques can get you there in short period of time, but that will eventually get you banned from Google. In order to gain top ranking on Google, it takes time and work, there are no quick fixes.
SEO is much more than keywords these days. There is the optimization of the website, paid advertisement, backlink creation, and other analysis such as competitors and keywords. A good SEO firm should know how Google ranks websites in 2017.
Google Website Ranking Techniques
When Google ranks website content, it does so based on relevance. It produces search results that it feels are relevant to what you are searching for. In the past, it was based on how many keywords you had over your competition that gave you a higher ranking, but they now use hundreds of factors to determine relevancy. The following are relevant factors used to rank websites in 2017:
Quality Content
Let's assume you are searching for a set of headphones. The return page will feature a large amount of quality content as compared to a page with much lesser content such as a product page. The image below shows a Google search result for "Best Headphones".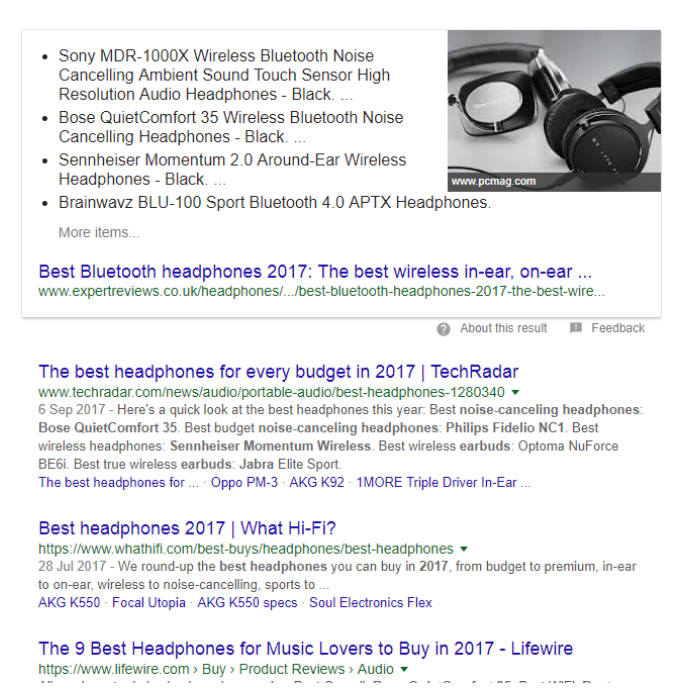 A lucky site is usually selected as the featured snippet for each search result as the most relevant answer to the question asked by the user. This snippet cannot be bought, it is decided by Google.
After the snippet, the actual organic results are then displayed. From the results, you will notice that there are no product pages included, just review sites, and category pages that contain a lot of contents. The bottom line is that your products are not going to be displayed on this search page, no matter the number of "best headphones" you have on your copy.
Generally, create quality content on your website by having at least one paragraph keyword-filled and well-written copy on every page on your website. Do not stuff it up with keywords. Create content that actual humans can read and have as much as possible since pages thin on copy do not rank well on Google.
META Title & META Description
They have always been at the center of every SEO strategy. META Keywords were also once used until Google had to scrap them due to its abuse by SEO outfits. Below is an example:

The text at the top in blue (or purple when it has been visited) is the META Title. It's advised to keep this to about 60 characters, although there are no character limits. Google displays titles at 600 pixels at maximum. Get in as many keywords as possible, but make it clear enough for the users. Sometimes your brand is more important than keywords, depending on the industry and in such situations, putting your company name is important.
META Description is the chunk of text just below the URL. It is best to keep the text at 150 characters as search engines usually cut them off if they are more than 160 characters. You can decide to use keywords here but what is more important is a proper description that the user can relate to by describing your product or company in such a way that persuades the user to click on your link.
Speed
Google has officially confirmed that it now ranks pages based on how quickly they load. They expect that each page loads within two seconds or faster. Speed has an effect on user experience as slow pages have lower conversion rates. By having uncompressed scripts, images, and CSS file on your site, it stands the risk of being slow.
You can test your sites speed using the Google speed test tool or other tools online sites online such as Pingdom site. Your website platforms come with optimization tools that help test site speeds as well. No visitor is willing to wait more than five seconds for your page to load, so ensure that you use a Content Delivery Network (CDN) to optimize images and compress files.
HTTPS
Your site needs to be running on HTTPS always as it is a requirement by Google and also helps to keep your site secure from hackers. Also, it can be really annoying to see the "Insecure" warning in your web browser. Although it slows down your site, it is still an important security feature. Another important decision you need to make to keep your site safe is to have it hosted by credible web hosting companies, who can provide extra layers of data encryption. You may decide to choose a web host within your country for specific logistics reasons.
Mobile Friendliness
Your website will not get any ranking on mobile searches if they are not optimized for mobile devices. The Google ranking algorithm for 2017 factors in mobile friendliness as one of the top determinates, with over half of Google searches coming from mobile devices in the past one year. When people come to your site and cannot navigate properly on the phones, they will most likely never visit again. Google now hopes to switch to mobile-first indexing in a short while.
Bounce Rates
This refers to the number of users that visited your site and left within ten seconds. This most likely means that they did not find relevant information and used the back button to return to the result page. A high bounce rate is viewed as negative to Google as it seems as if your site is not relevant to that search result. So it is best to prevent high bounce rates by posting contents relevant to your site, ensuring your site loads quickly and is optimized for mobile devices.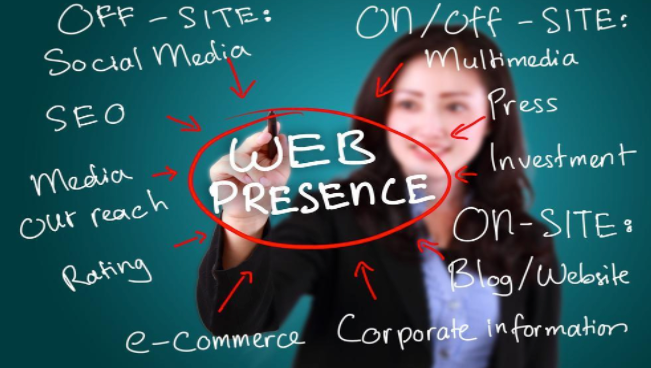 Duplicate Content
This refers to having similar content on your site as with one or more other websites. This usually occurs with sites that sell products they do not manufacture. Usually, manufacturers make available standard pictures, product names, and descriptions to their distributors and every site selling this product end up with similar content. Google simply picks the site that has all the information and is more relevant to the search. 9 out of 10 times, the manufacturer's page will always be displayed as it has the most relevant information.
There is actually no penalty for duplicate content, just the most relevant site is returned in the search. To avoid duplicate content, it is advised that your content is at least 25% different from that of another web page on your site or on another website entirely. Including a META title and META description also helps. You should also ensure there are no duplicate copies of your site listed on Google.
URLs
Your URLs should be clean and optimized with the right keywords. People still get it wrong as the right keyword in the URL tells Google what the page is about. See an example:
Bad URL: shopsite.com/products.php?productide=1234
Good URL: shopsite.com/organic-orange- juice/
The first is filled with a bunch of characters, and no keywords, making it look untidy. The second URL is keyword-filled, optimized, and tidy.
New Content via Blogs
Everybody likes new content and so does Google. Google loves to rank sites based on fresh content. With some sites, like e-commerce sites, it can be difficult to add fresh content consistently, except you are adding a new product weekly. The solution to this is blogging, as it gives you the chance to add fresh content weekly and keep your site ranked.
Blogs also build influence on the products you sell for both the site and the brand. The information you post about the product gives customers a reason to visit your site again and help create content you can post on social media sites to gain more customers.
Social Media
If you want to be relevant on Google, you need to have a social media presence. Social media has changed almost everything we know about marketing and if you are not on social media, Google will see you as less relevant to websites that have social media presence. Use Facebook frequently, post a link to your latest blogs, put out a few messages on Twitter, and be active on other platforms like Pinterest and Instagram.
Backlinks
Backlinks are links to your site from more recognized sites. Conversely the more quality backlinks you can get, the higher your ranking will be on Google. For example, site X sells Wristwatches and site Y sells the same; they both have similar keywords, a good site, and keyword-filled content. But site X has about 200 quality backlinks and site Y has 40. Google will rank site X higher than site Y based on its algorithm, which sees site X as more important than site Y due to its more relevant backlinks.
Blog Courtesy of James Cummings
If you would like help improving the SEO of your website and how Google ranks website content on your site, please be sure to contact us at Gliffen Designs, info@gliffen.com, 307-200-8999.