Gliffen Designs is bringing back the Hole Coupon Book for 2017's Spring off-season! Advertise with us and bring in business during that slow, muddy Spring!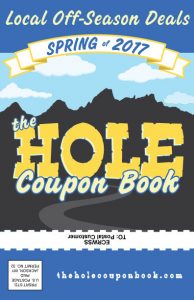 April, May and the beginning of June in Jackson Hole is a tough time for businesses. When the resort closes, businesses rely on locals to get them through to the tourist season. What better way to reach 15,000 of these locals but through a coupon book that brings customers to you!
Gliffen Designs compiles advertisements from local business and distributes them to mailboxes in Kelly, Moran, Teton Village, Wilson and Jackson on April 3rd. Our past advertisers have seen large influxes of people using the coupons and supporting the businesses. Locals love the deals! It's a win-win for all!
Visit the Hole Coupon Book website or view this flyer to learn more about the costs, the benefits and the details of advertising in the Hole Coupon Book! Call us at 307-200-8999 or email us at mel@gliffen.com to advertise today!