Website Design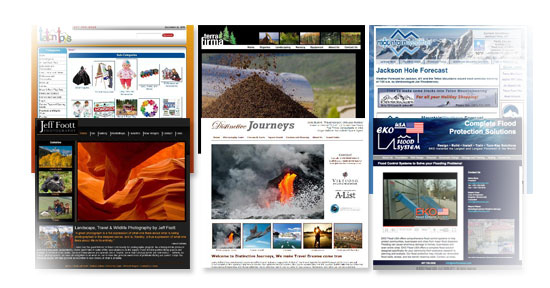 Do you need a website? We have a great blog post on this exact subject. In short the answer is YES!! but if you need more convincing click here. 
Gliffen Designs is committed to creating compelling website designs that conform to current standards, best practices, and design trends. With over 14 years of experience, we have been down almost every virtual road on the web. From beginning to end, we can cover all of your website design needs. No project is too big or too small for our team to accomplish. Whether you're in need of a web-based store, a company information site or an artist portfolio, we will use the proper technologies and designs to reach and appeal to your audience.
At Gliffen, we want to encourage you and your business to take advantage of your online marketing tools. We can help you present your business effectively online with an easy to navigate website that gives your consumers what they want to know.
We also use WordPress and other Content Management Systems to create a blog and/or a website to integrate with specific business needs. Integrating a blog with a business can be useful for some that want to reach a specific audience by writing in a conversational way and showing the human and personal side of their business. We also encourage the use of social media networks to expand on their potential clientele that they may not be reaching otherwise.
Our web design services are billed on an hourly basis at $50/hr
To see examples of websites that we have designed please visit our portfolio page or click here
307-200-8999
info@gliffen.com
Request a Quote
We want to help you get started. Let us know what project(s) you had in mind and we will contact you as soon as possible.
---
---
An extremely flexible Point of Sale software that allows retail businesses to manage a single inventory for their physical store and E-Commerce website. This program is truly a one of a kind solution. Click Here to Learn More
This program is the solid foundation for any custom application or management needs you have. With loads of add-ons including event managers, slideshow creators, advanced content editors and many more. If you have specific needs we can tailor this system to work exactly as you want it.
Click Here to Learn More
---
Subscribe
Blog
UPDATE Due to technical difficulties, if you had applied for this position via email prior to 4/20/2014, you email was not recieved. Please re-submit your resume to apply. Position Gliffen Designs is looking for an individual that is resourceful, task-oriented, and possesses great personal skills to work collaboratively with our Jackson based design team. Applicants […]
The post Web Designer/Graphic Designer appeared first on Gliffen Designs.