Testimonials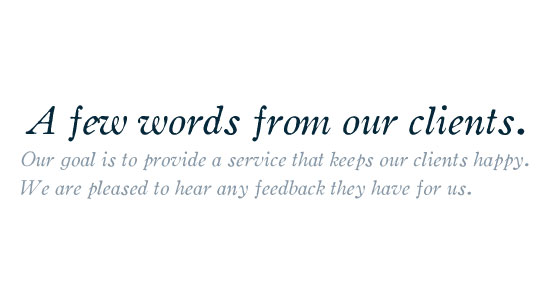 "Heather and AJ from Gliffen Designs were more than helpful in getting our website launched. Heather was extremely helpful and creative during the entire process; she even worked on our site while on vacation! This is a design firm of many talents and I highly recommend their services."
-- Lizzie Blake, Stockton and Shirk
"Creative, professional, timely and a joy to work with! We hired Gliffen Designs to re-do our restaurant menus and could not have been more thrilled with their service and the end product. Despite many changes on our end, the team at Gliffen was patient and quick to make edits for us. They came up with a fun and creative design that matched our restaurant perfectly! Will definitely be hiring Gliffen again in the future."
-- Kristin Walker, Gun Barrel
"Thanks for all your hard work on putting together the www.mountainweather.com mobile website. It took awhile to get all the little details that I required of the site, but you guys met the challenge and produced exactly what I was hoping for. For me, having a mobile version of the site that people can use when they are out in the weather or traveling on the road makes perfect sense. And now the integration of the full website and the mobile version, which you have handled beautifully, makes mountainweather.com a much more valuable resource for its users. Thanks again and keep up the great work!"
-- Jim Woodmencey, Mountain Weather
"We own an online retail business and needed help integrating our website for social media, and advice and tutelage on how to make social media work for us. AJ & Heather are very easy to work with. They are both knowledgeable and actively engaged in social media, which we lack completely.
They are personable and listen very well. One of their finest qualities is that they seem to intuitively understand when they've given us enough technical information--they don't over-explain. They are very helpful and responsive to any inquiries, and are willing to spend time teaching us what we need to know.
Our project is still underway, and so far results have been good; my only concern is that, frankly, they have shown us a little too much deference because of our age! On this subject they are the experts, and we are the novices. I need to be whipped into social-media shape! We have had other consultants before, and none have been as good as Gliffen."
-- Laurel Murphy, Handknitting.com

"After working a bit with several website designers, I found it was AJ at Gliffen Designs who was able to really grasp my business and combine old marketing graphics with new, to best represent me. AJ is fun and easy to work with, and he engaged with me and my business ideas on a very personal level, to assist me in numerous ways. He's a helpful and accessible friend,excellent at what he does."
-- Mary Wendell Lampton, Sacred Spaces, LLC
"I found Gliffen Designs while searching for someone to completely re-do my website www.mountainweather.com and it has been the best thing I ever did for my business. AJ took my ideas (that I had scrattched out on paper!!) and brought those ideas to fruition. All along the way, AJ and Gliffen fullfilled my needs and added every feature I requested to my site in a timely manner. At the same time giving me complete control over the content with their own Content Management System. I cannot recommend Gliffen highly enough for website design or management. "
-- Jim Woodmencey, Mountain Weather
"Really enjoyed working with AJ and Heather. They are both creative and incredibly helpful. I'm not that computer savvy and they both helped me figure out ways to reach people through the internet and create a website that I feel is simple to use, classic, and really captures an essence of what we are trying to share with our clients. When it came to a logo, my partner and I would share our ideas that I felt were pretty vague and abstract but AJ pulled it all together and came up with exactly what we wanted! Brilliant. I definitely recommend them for anyone and have! "
-- Tina Seay, The Connection
"Gliffen Designs did an excellent job on one of our property websites. They are professional, affordable and produce quality work with quick turnaround. Thanks again!"
-- Mindy White, Mercedes Huff & Associates
"Great work on our webiste. Easy to work with, very understanding. Cost effective. Simple. Would recommend to anyone."
-- Adam Williamson, Teton Valley Mental Health Coalition
"Can't say that there is a better team to work on www.bikewire.org! Gliffen Designs is multi-faceted and has been able to tackle any crazy idea/concept I throw at them - AND they are enthusiastic about what they do. I would give 6 stars if I could."
-- Andy Zimmerman, Bikewire
"It was a pleasure working with Gliffen Designs. They had great ideas and listened to our input. The work was done in a timely manner and was very cost effective. We will continue to use them when we have future work."
-- Armond Acri, Save Historic Jackson Hole
If you've worked with us and want to share your experience, feel free to share on our Yelp page, Facebook, Google Places page, or simply by e-mailing us.
307-200-8999
info@gliffen.com
Request a Quote
We want to help you get started. Let us know what project(s) you had in mind and we will contact you as soon as possible.
---
---
An extremely flexible Point of Sale software that allows retail businesses to manage a single inventory for their physical store and E-Commerce website. This program is truly a one of a kind solution. Click Here to Learn More
This program is the solid foundation for any custom application or management needs you have. With loads of add-ons including event managers, slideshow creators, advanced content editors and many more. If you have specific needs we can tailor this system to work exactly as you want it.
Click Here to Learn More
---
Subscribe
Blog
UPDATE Due to technical difficulties, if you had applied for this position via email prior to 4/20/2014, you email was not recieved. Please re-submit your resume to apply. Position Gliffen Designs is looking for an individual that is resourceful, task-oriented, and possesses great personal skills to work collaboratively with our Jackson based design team. Applicants […]
The post Web Designer/Graphic Designer appeared first on Gliffen Designs.